The process for managing licenses changes for Naviate for Revit licenses on version 2022.1.1 and later upcoming releases, here's an overview.
Content
Create a Symetri user ID
Naviate for Revit licensing system
Symetri License Portal
Create a Symetri User ID
You can create a new account when you are asked to log in
Accounts can also be created for multiple users by the license administrator at your company using the new Symetri License portal. See below.
First time you start Revit after installing Naviate 2022 you will be prompted to log in. Either create an account, use existing account for Naviate.com or an account that License administrator at your company has created for you.
The account you use will determine which of the installed Naviate applications you will have access to use. If no license is assigned to your account for an installed application you are asked to start a 1-month trial once.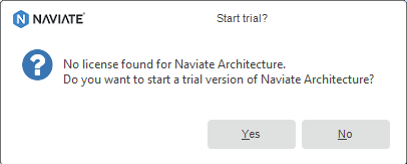 You will be remembered on the computer you log in on until you logout from Naviate. You will not need to login every time you start Naviate. After a long period of inactivity, you might need to enter your password again when starting Naviate.
You need to have internet access to create an account, log in and activate your license(s). After that you can run Naviate without internet access depending on your license type, see below.
You can use Revit without logging in to Naviate. The Naviate applications you have installed will be disabled. Click on "X" button when asked to log in.
You can see who is logged in to Naviate and also log out from the Help ribbon. You activate the Help ribbon from the Help button in each application ribbon.

Note! Naviate Rebar Extension will not require a Symetri account. It doesn't require a license to run.
Naviate licensing system
User based licensing of Naviate applications and new License Portal for user and license management.
Naviate 2022 applications uses a new licensing system based on the Symetri User ID. The Naviate licenses you have bought have to be assigned to user accounts (Symetri User IDs). This is managed in the new Symetri License portal.
If you have purchased Naviate licenses; you use the Symetri License portal to assign licenses to users. You need to be an administrator in the Symetri License Portal to do this. One person in your company (the contract administrator) has this access but it can be added to multiple users. Read more about the Symetri License portal below. See below.
You also have an option to start a trial period for 1 month for applications you install but don't have a license for.
The new licensing system support Single user, Multi-user and Trial licenses.
Single-user license
The single user license is personal
A single user license is assigned to one Symetri user account.
It can be used off-line once activated
The offline period is maximum 1 month without need for being online
You can have the single user license activated on two computers, but you are not allowed to use them simultaneously
It is possible to deactivate the license on computers and active on other computers
Reach out to support or your contact in SYmetri to get help to deactivate a computer.
The license is time-restricted based on your contract and is automatically updated when renewed
Multi-user license
A Multi-user license can be assigned to multiple Symetri user accounts.
All users assigned to the license share a pool of seats
A seat is taken from the pool when you run a Naviate tool for that application (or when running a tool in Naviate Accelerate)
If all seats are taken by other users, you will not be able to run the tool until a seat has been returned to the pool
A seat is returned when ending Revit/Naviate or when logging out from Naviate
You must have an internet connection to use multi-user licenses.
The license is time-restricted based on your contract and is automatically updated when renewed
Trial license
If you have installed a Naviate application that you don't have a license for you will be asked to start a Trial. The Trial is valid for 1 month and can be activated once per computer. Once you have started a Trial you can use the Naviate application off-line during the trial period.
If you answer No when asked to start a trial you will not be asked again when starting Naviate unless you logout and restart Naviate.
Symetri Licence portal
The Symetri Licence portal is a web application that you can start from Help ribbon in Naviate or by using the link: https://license.symetri.com. Use your Symetri User ID to sign in.
As a standard user you can
See Naviate licenses assigned to your account
See started trial versions
Deactivate a license one a computer
As a license administrator at you company you can
See all licenses owned by the company
Add or Invite users to your company
Remove users from your company
Assign and unassign licenses to users in the company
NOTE! Only licenses for Naviate 2022 are managed by Symetri License portal. Older versions of Naviate still uses the FLEXlm licensing solution.
Resources